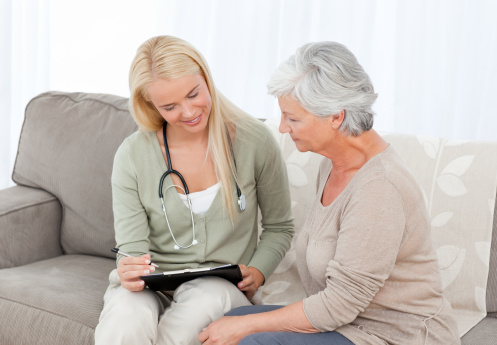 Providence Care knows how stressful getting the right medical care for you or your loved one can be. That's why it's our goal to make getting the care you need as easy as possible. With our Hospital at Home services, you'll never have to feel stressed about making it to your doctor's office for an appointment, because we bring the medical services you need right to you, in the comfort of your own home. Our physicians and nurse practitioners have been specially trained and board certified in geriatric and internal medicine, so they're able to provide you with expert care in your home.
Having the ability to receive the medical attention you need through our Hospital at Home service is priceless. When you choose this service from us, transportation hassles and uncomfortable waiting rooms are a thing of the past, because you'll get all the care you need in your home. Not to mention, through Hospital at Home, you'll have all of your medical care carefully coordinated, so we'll make sure your medications, physicals and vaccinations are current. You'll have fewer trips to the emergency room and hospital, and enjoy greater comfort in life in spite of your medical condition.
Hospital at Home services from Providence Care help you live your best life in your home.
Through Hospital at Home, Providence Care provides you with the care you'd expect to receive at your physician's office in the comfort, familiarity, privacy and safety of your home. Our caring, talented health care team will work with you to help develop an individualized plan and to ensure you're receiving the best quality of care available. If you've been avoiding doctor's visits because they're difficult to plan, or if you're making frequent trips to the emergency room or hospital, Hospital at Home services may help you live a healthier, happier life.
If you don't know whether or not our Hospital at Home services are right for you, you should know the following about our patients. Generally, they are:
Frail, elderly and debilitated
Homebound due to mobility issues
Unable to easily get to a doctor's office
Medically complex or suffering from a chronic illness
How else does Hospital at Home help people?
When you choose Hospital at Home from Providence Care to help meet the needs of yourself or your loved one, you won't have to worry about x-rays and lab work, because most x-rays, lab work and blood draws can be done right in the comfort of your home. The frequency in which you will receive Hospital at Home services depends on your own, individual needs. Your first visit with us may take an hour, while subsequent visits last between 30 and 45 minutes. Our staff focuses on the care you need, not the clock.
You should also know that you'll never be turned away for an inability to pay. Your Medicare, Medicaid or private insurance pays just like it would for any doctor visit. To become a Hospital at Home patient, call Providence Care at (803) 818-6955, and we will schedule an assessment within 24 hours. We look forward to helping you live your best life.
We Provide Hospital at Home Service in the Following Areas: