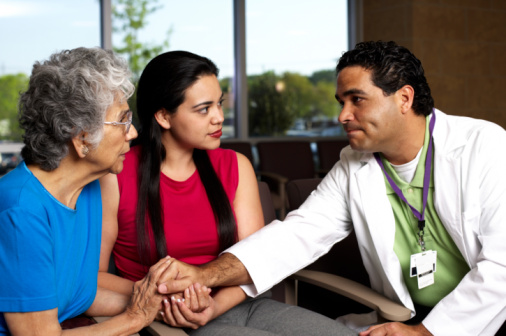 When you're living with a medical condition, it's not always easy to know where you can turn to for help. Many times, you want to stay in the comfort of your own home, but it may be difficult to get the services you need so that you can live well. At Providence Care, we believe that everyone has the right to an enjoyable life, even when facing a medical crisis. We offer care for many medical conditions, often right in the patient's home. We focus on patient goals and education, and help you live your best life possible. Learn more below about the medical conditions for which we provide treatment and therapies.
Adult Failure to Thrive: At Providence Care, our medical team looks at multiple factors that may be concurrently present and contribute to Adult Failure to Thrive, such as medical co-morbidities, medications, and psychological factors. By identifying and treating multiple contributing factors we can improve quality of life and function in this group of patients approaching end of life. All of such treatments are instituted as appropriate and in keeping with the patient's goals of care. Our staff offers specific in home care with our doctors visiting the patient at home. Our caregiving support staff helps with cooking, personal care, and other activities for daily living.
ALS: There are significant devices and therapies that can manage the symptoms of ALS that help people maintain as much independence as possible and prolong survival. It is important to remember that ALS is a quite variable disease; no two people will have the same journey or experiences. Our Providence Clinical Doctors have noted cases of people in whom ALS 'burns out,' stops progressing or progresses at a very slow rate. No matter what your individual course or situation may be, The ALS Association and the Providence Care medical team are here to help.
Cancer: Providence Care has been recognized as instituting one of the most innovative approaches to cancer care in the state of South Carolina. Our Palliative Care Alliance Program provides services and resources to help support patients and their loved ones throughout their experience with cancer. Whether you are still seeking curative treatments such as radiation or chemotherapy, our medical team can meet you at home after your treatments to reduce your side effects and pain issues associated with your treatments.
Congestive Heart Failure: Congestive Heart failure (CHF) occurs when the heart is damaged enough by heart disease that it doesn't pump enough blood to meet the body's needs. This pump failure can be due to problems filling or emptying the heart. Providence's multidisciplinary team provides a personalized care plan for each patient, including the use of advanced medical, and device therapies as well as education regarding lifestyle, exercise, and diet.
COPD: Providence Care's COPD Program is specifically designed to decrease symptomatic stresses associated with COPD by integrating formal palliative medicine in the outpatient arena and home setting.  Aggressive treatment of symptoms that occur with advanced COPD is currently an unmet need in the care of patients with advanced lung disease. The goal of Providence's COPD Program is to help patients with respiratory disease live for as long as they can as well as they can.
Dementia/Alzheimer's: Providence has been at the forefront of Alzheimer's disease research and care and we provide a number of specialized clinical services and support resources to patients and their families. Our team provides the sensitive, expert care AD patients and their families need, including diagnostic services, personalized drug therapies, chronic and terminal disease management services, access to clinical research trials, and support programs for family caregivers.
Depression: They say that anxiety is caused by worrying about the future while depression is caused by thinking about the past. Providence programs focus on the power of now. Providence's Care treatment plans encompass a broad spectrum of programs and services — from expert medication evaluation and in home counseling for troubling personal issues to counseling for substance abuse and eating disorders to counseling and help transitioning to inpatient care for acute conditions and severe mental illness.
HIV/AIDS: Providence Care provides comprehensive in home medical care to HIV infected individuals. Confidential HIV counseling services are available for any patient who requests it, including pregnant women. Victims of sexual assault and other HIV exposures can be referred for counseling and testing.
Liver Disease: Providence Care is committed to offering the most innovative and compassionate care to our liver patients offering comfort and support. In addition to providing state-of-the-art services, Providence patients may also qualify for participation in clinical drug trials and research studies conducted at area hospitals.
Multiple Sclerosis: Providence's mission is to support the family and patient living with Multiple Sclerosis with compassion and understanding. The clinicians who provide care to our MS patients do it with the skilled and compassionate care they need — from disease management to physical therapy — while scientists throughout our hospital network continue to make strides in understanding and treating this debilitating illness.
Muscular Dystrophy: Providence's specialized team of clinicians sensitively care for patients suffering from end stage forms of muscular dystrophy, while expert scientists make ongoing progress in unraveling these conditions at the cellular level. In addition to providing state-of-the-art services, Providence patients may also qualify for participation in clinical drug trials and research studies conducted at area hospitals.
Parkinson's Disease: The most basic daily routines are affected in patients diagnosed with Parkinson's Disease—from socializing with friends and enjoying normal relationships with family members to earning a living and taking care of a home. Medications are used to control symptoms by increasing dopamine levels in the brain.  There is also surgical intervention through implantation of the DBS, deep brain stimulation.  It is Providence's mission to offer the most compassionate centered care incorporating the patient's and family's goals.
Renal Failure: Providence Care's clinical staff has a strong commitment to providing hemodialysis access, peritoneal dialysis access and general surgery for patients with kidney failure.  The care provided ensures attention to the particular problems of the kidney failure patient regardless of the type of surgical problem encountered.
Stroke: If you think you are having a stroke, please call 911 for emergency assistance right away. Signs of stroke include impaired walking or balance, difficulty talking, side of face drooping, weakness or numbness on one side of the body, complete or partial loss of vision, and a severe or unusual headache. If you have had a stroke and are returning home from the hospital, Providence Care can help. Our clinical care team is here to offer support to stroke victims and their families.
If you have one of these or any other medical condition, you should know compassionate care is only a phone call or a click away. To learn more about how we can help you live your best life today, contact us, and we will be happy to help you.